Paris Internationale 2022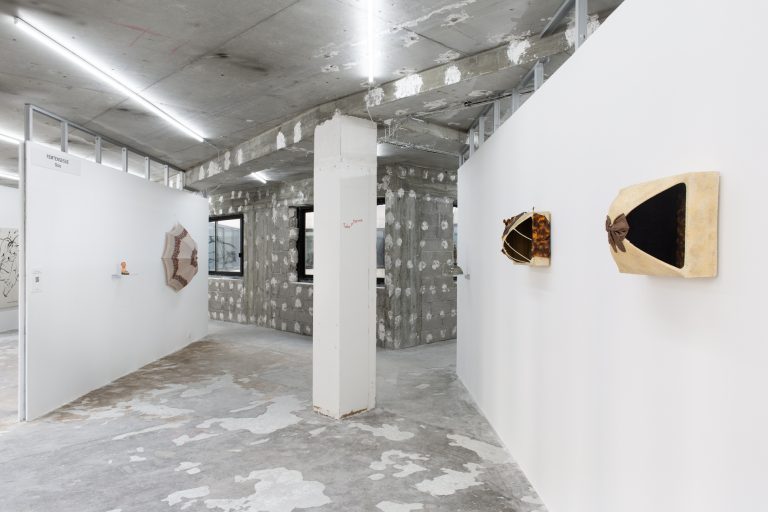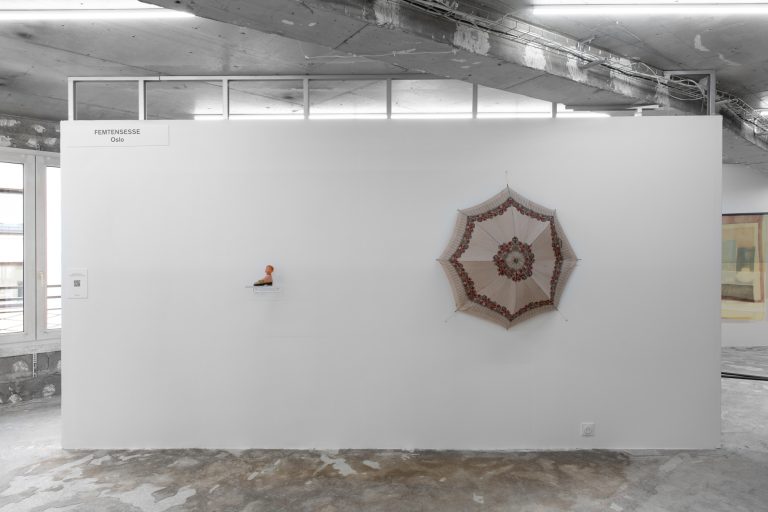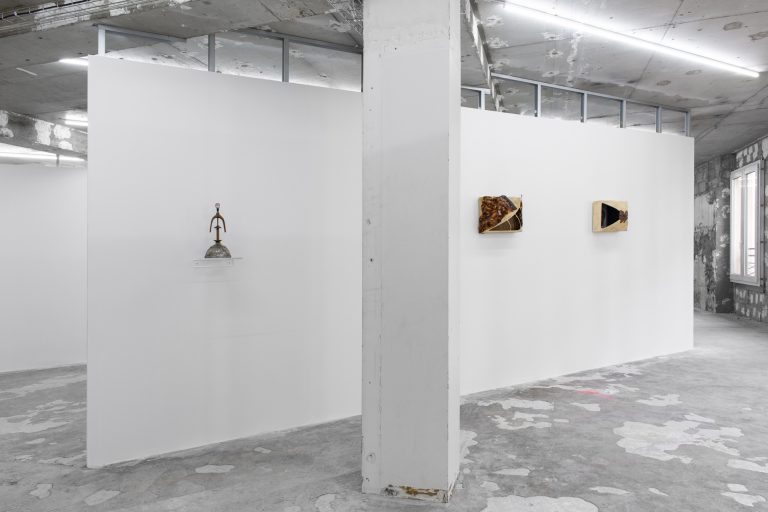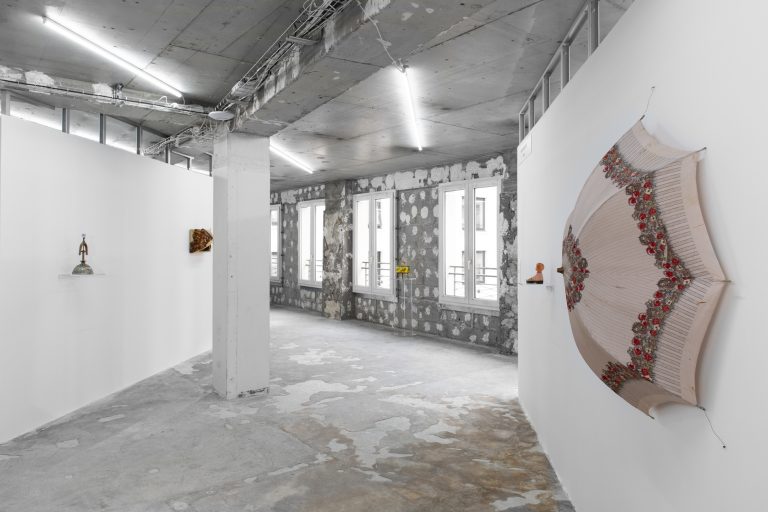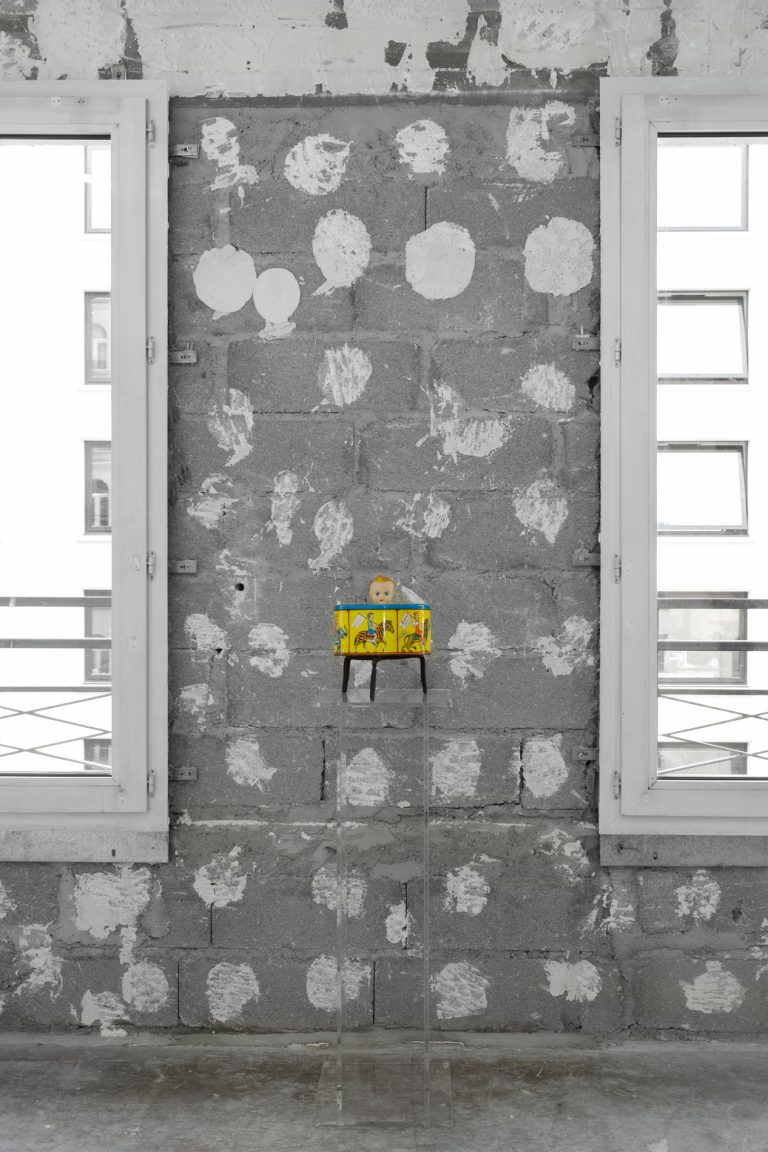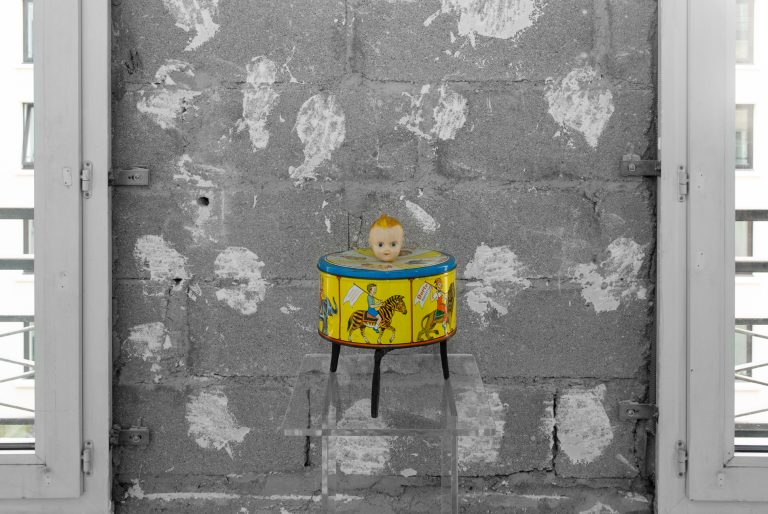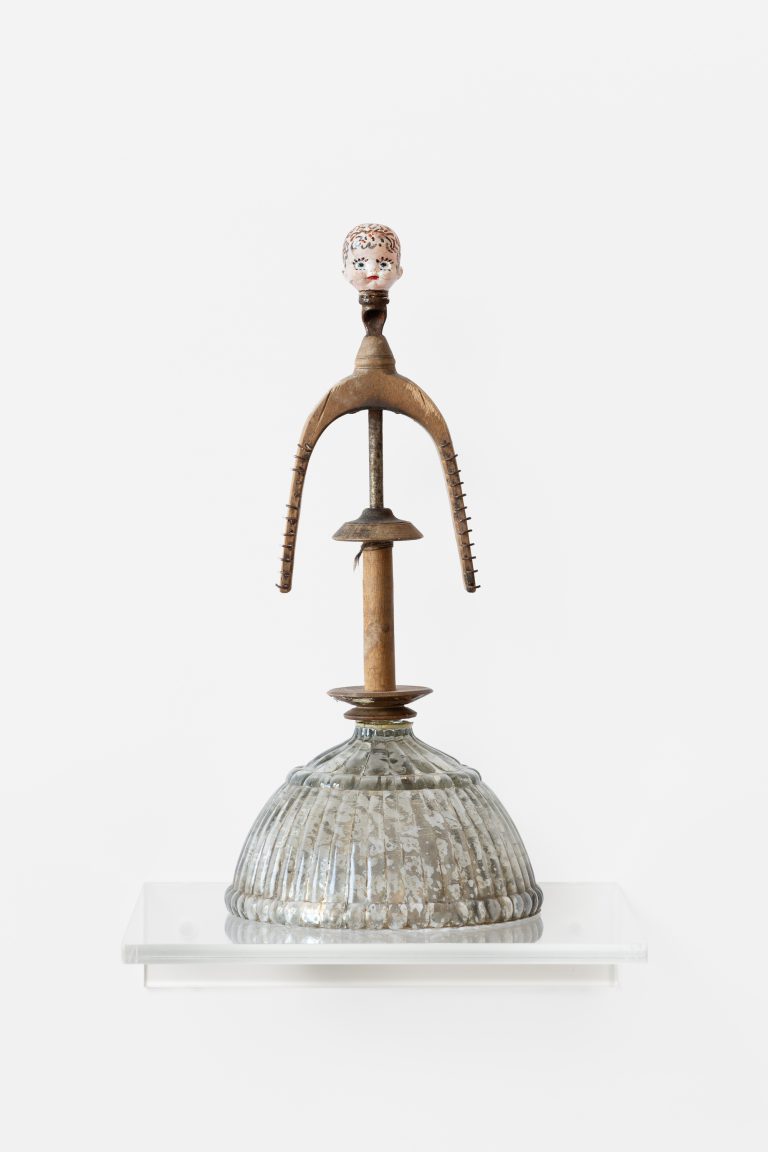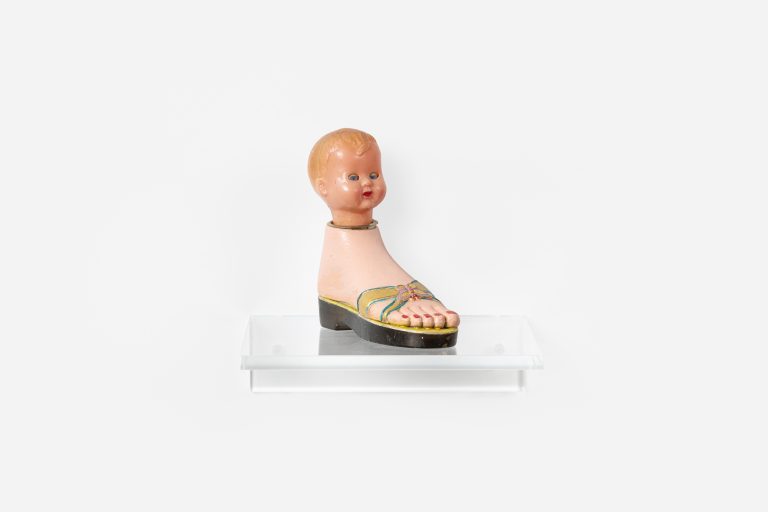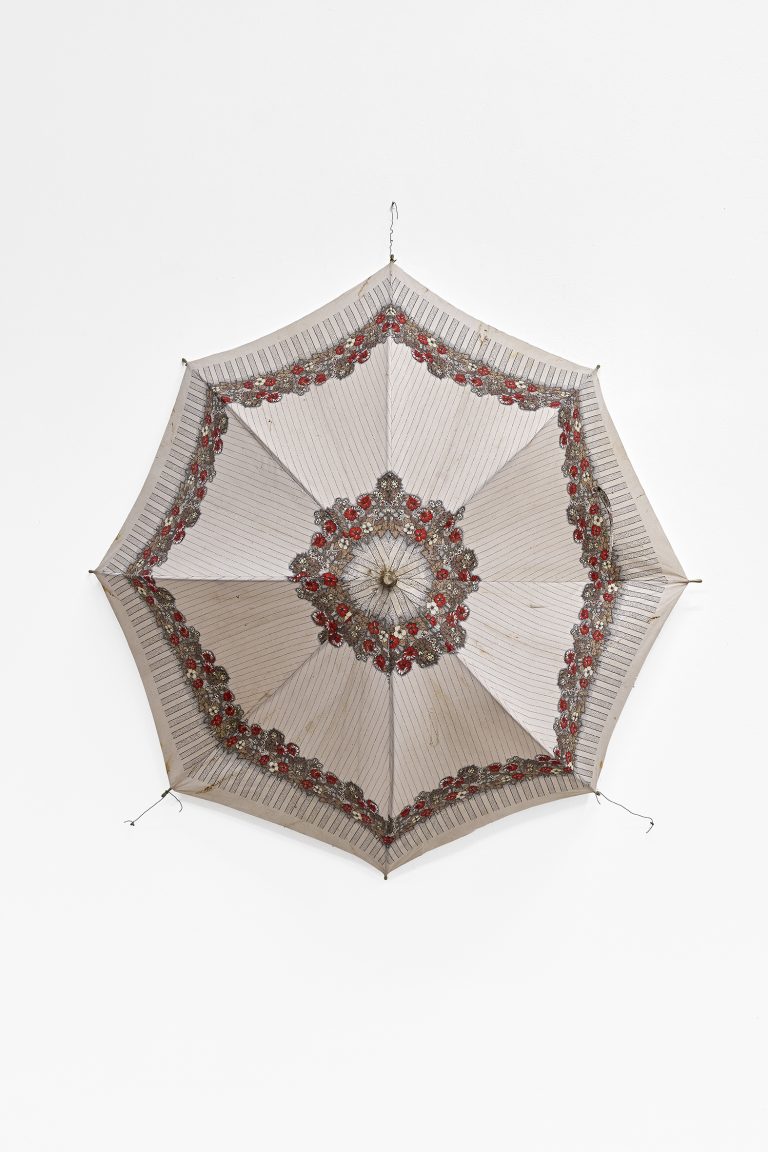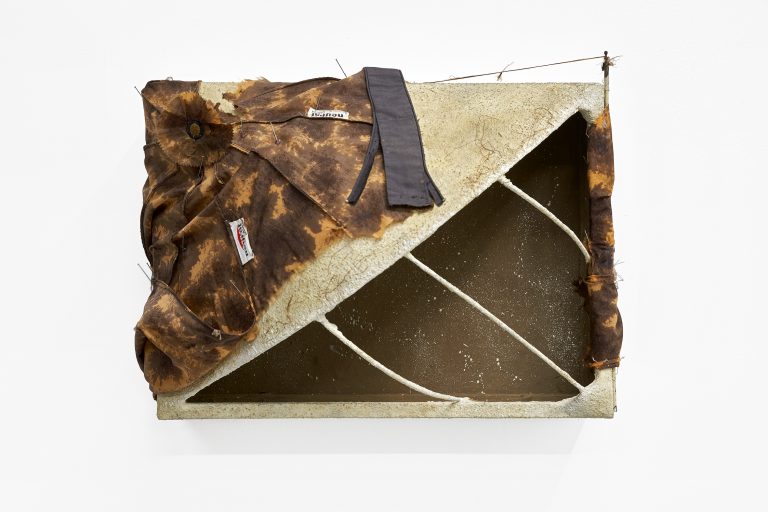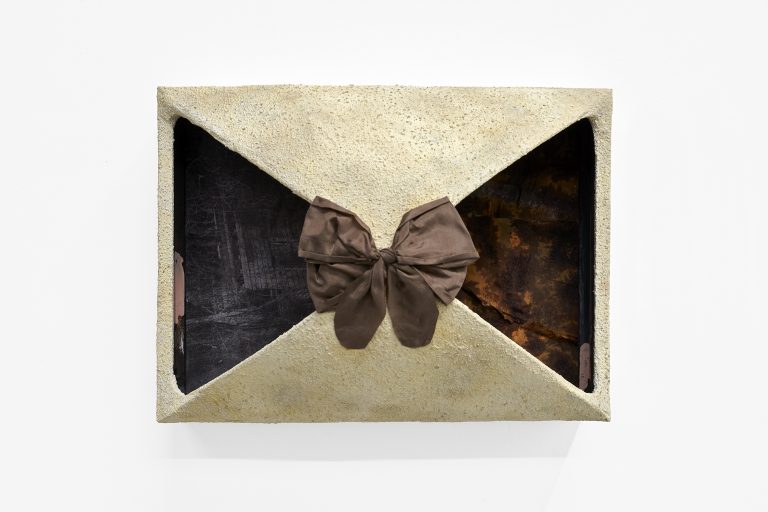 Femtensesse proudly presents French artist Clémence de La Tour du Pin and Norwegian artist Ingerid Kuiters at Paris Internationale 2022. Bringing together two artists from different countries and generations, the duo presentation highlights a shared interest in found and assembled objects. La Tour du Pin has created a new series of wall objects from cast-off umbrellas found in a French countryside garden. Weather-beaten by their exposure to the elements, the artworks are variously twisted and outspread on the wall or folded and enclosed to hollow boxes. Kuiters' assemblages are made up of old spools, doll heads and other obsolete objects from the domestic sphere. Projected by a surrealist vision, these components of domestic life reappear as autonomous, female bodies.
Clémence de La Tour du Pin (b.1986, Roanne) lives between Paris, France and Tilburg, the Netherlands. She is a multidisciplinary artist working primarily in sculpture, painting, and olfactory media. Her practice is informed by private and cultural inheritances, metaphysical epistemologies, phenomenology, fiction and failure. La Tour du Pin is a previous participant of De Ateliers, Amsterdam and The Mountain School of Arts, Los Angeles in addition to her education from London School of Art, Architecture & Design and Van der Kelen Logelain school of decorative painting in Brussels. Recent solo exhibitions include Host, CAPC – Musée d'art contemporain de Bordeaux (2021); In shade, Smart Objects, Los Angeles (2021); Windings, Femtensesse, Oslo (2021); and Architecture of Tess, 1857, Oslo (2017). Her works have been included in group- and duo exhibitions at Wschód gallery, Poland (2022); Hagiwara Projects, Tokyo (2021); 15 Orient at Balice Hertling, Paris (2020); CAC – Synagogue de Delme, Delme (2019); Dortmunder Kunstverein, Dortmund (2017); SALTS, Basel (2015); and Musée d'Art Moderne de Paris, Paris (2015). La Tour du Pin' s work can currently be viewed in the group exhibition Presentations at Radicants, Paris, and later this fall her work will be presented in a duo exhibition with Adolphe Monticelli at April in Paris, Aerdenhout. 2023 will see a solo show by La Tour du Pin at Tonus, Paris and her work will be included in a group exhibition at Blaffer Art Museum in University of Houston, curated by Jennifer Teets.
Ingerid Kuiters (b. 1939, Sandefjord) lives and works in Åsgårdstrand, Norway. Throughout her career Kuiters has created a highly distinctive and unique body of work comprising of lacquer paintings and assemblage. Her decorative works are rooted in traditional craft practices and contain a subtle critique of consumerism, normativity and feminine stereotypes. Kuiters received her education from the National College of Art and Design in Oslo (1957-1961) and Tegneskolen for Kvinder in Copenhagen (1962). After completing her education she traveled and exhibited extensively around the world. Her long career as an artist includes solo exhibitions at UKS, Oslo (1972); La galerie de l'oeil de Beuf, Paris (1994); Galeria de Arte, Loulé (2001) and group exhibitions at Stedelijk Museum, Amsterdam (1989- 91); and Den Frie, Copenhagen (1998). In 2011 Kuiters' eclectic body of work was celebrated with a major retrospective at Haugar Vestfold Art Museum in Tønsberg. After a longer period mainly exhibiting in the region of Vestfold in Norway where she lives, her work has in the past year received renewed attention through exhibitions in the Oslo region. In the spring of 2022, her work was presented in a solo exhibition at Femtensesse focusing on lacquer paintings and assemblages from the 1990s to the present. Concurrently with Kuiters exhibition at the gallery her work was presented in group exhibitions at Nitja Center for Contemporary Art, Lillestrøm and The National Museum, Oslo. Her work can currently be viewed in the 135th Autumn Exhibition at Kunstnernes Hus, Oslo.
The presentation is generously supported by OCA – Office of Contemporary Art Norway.