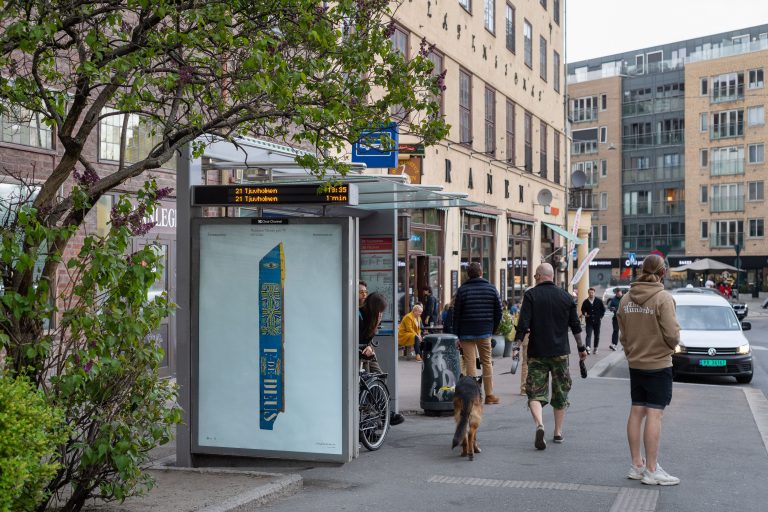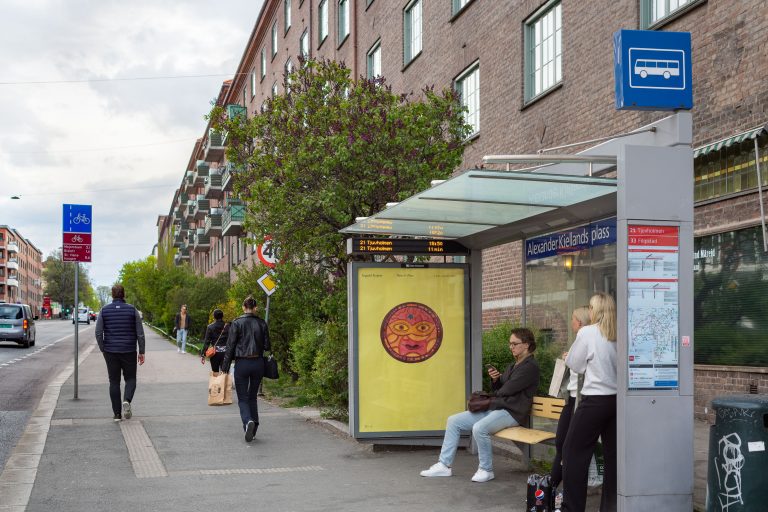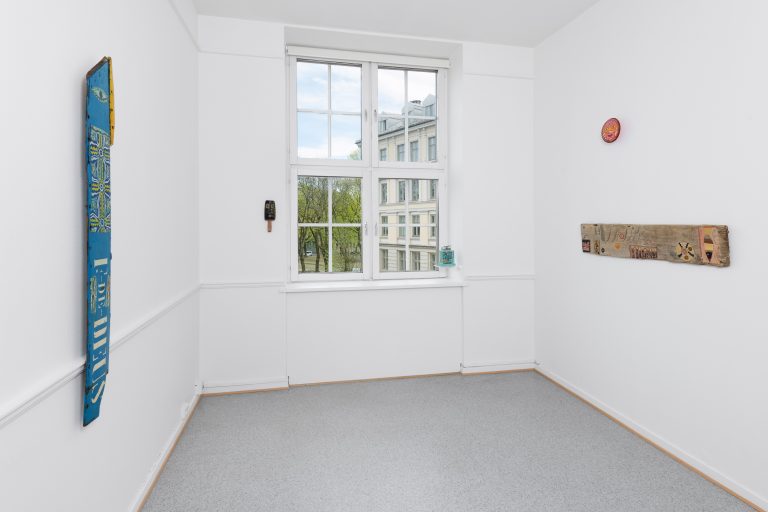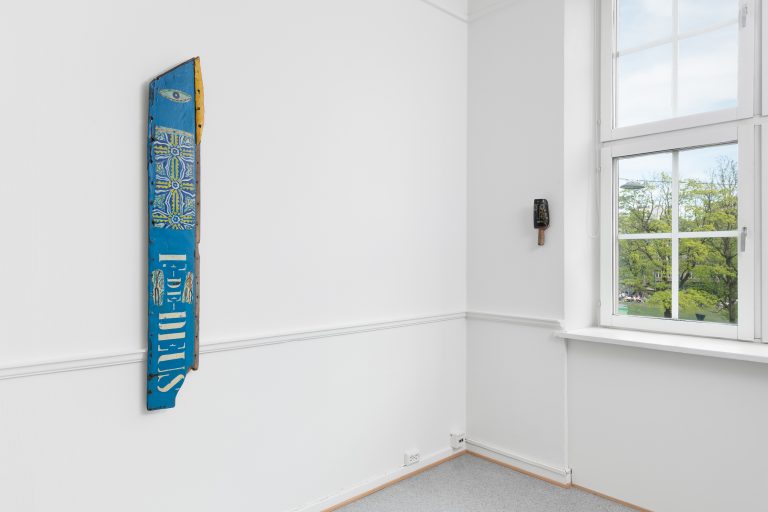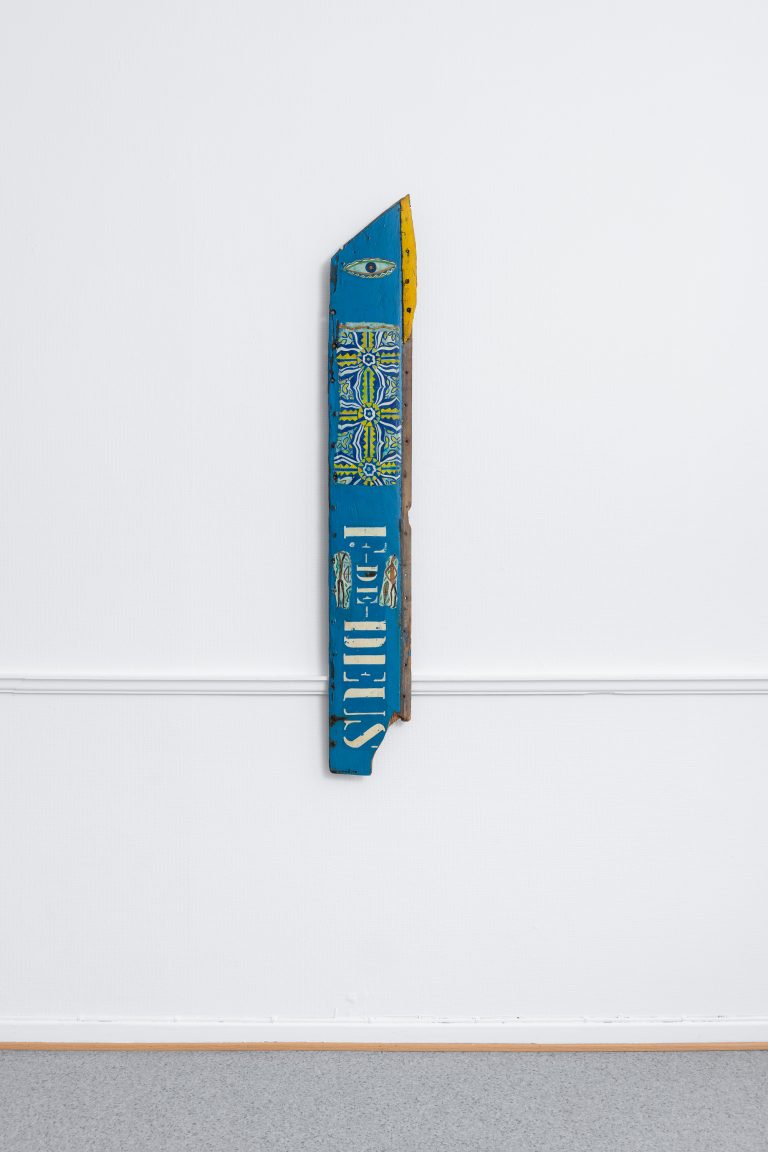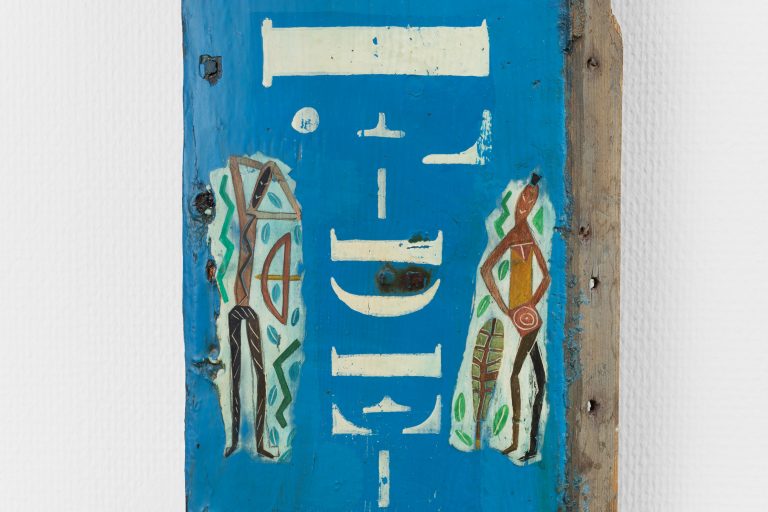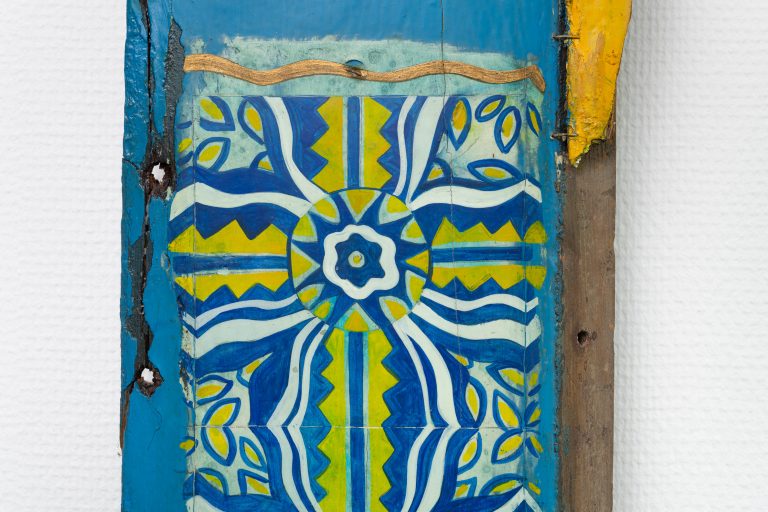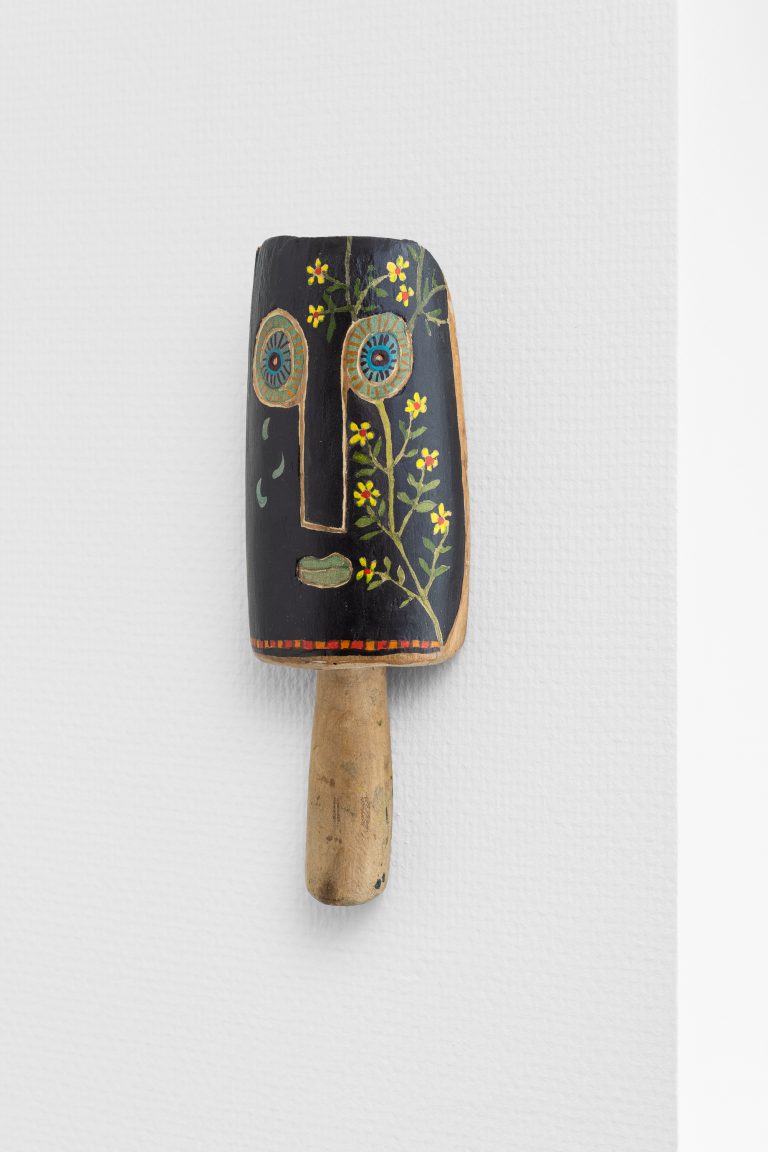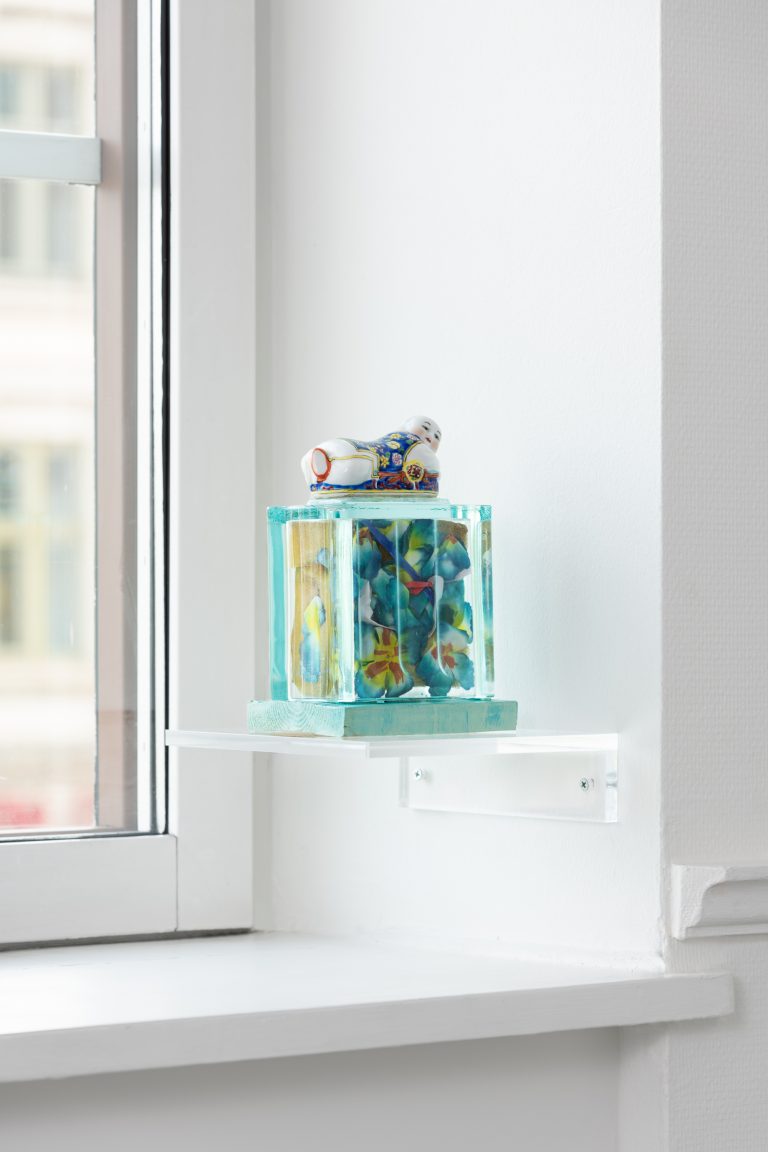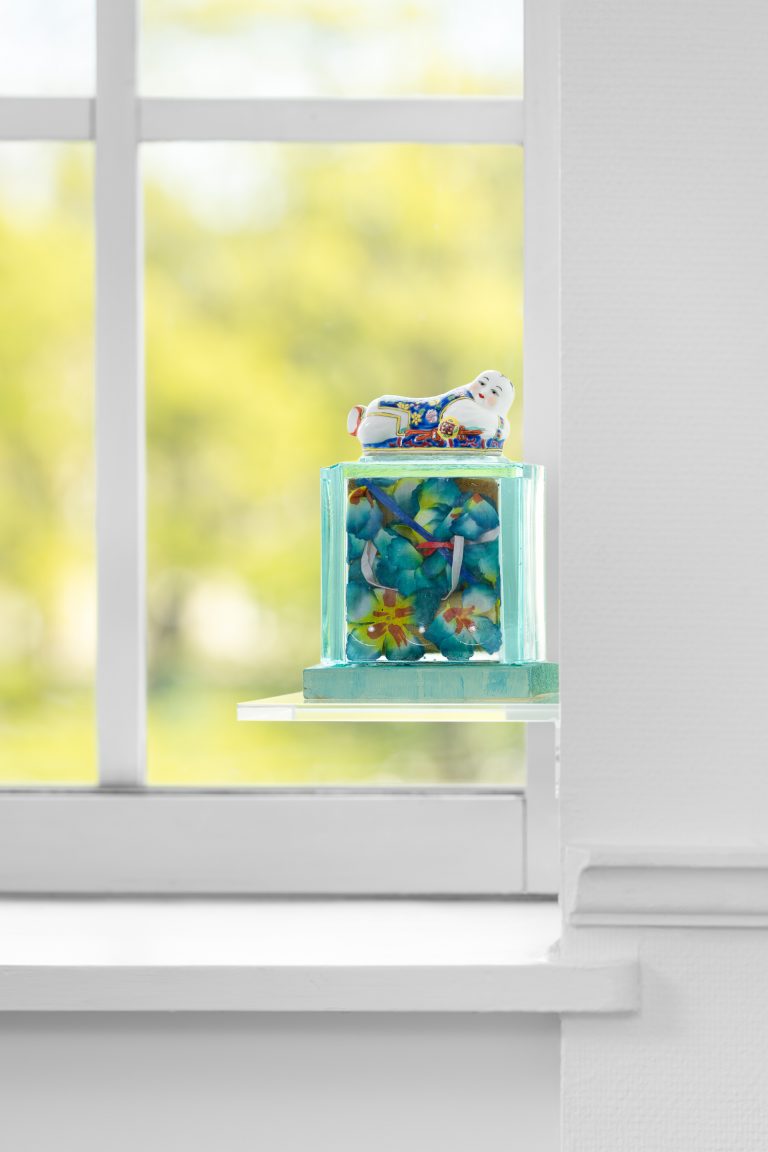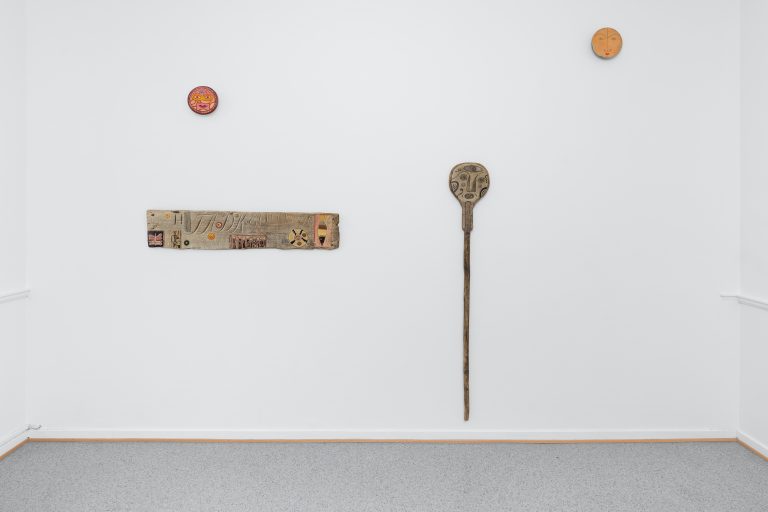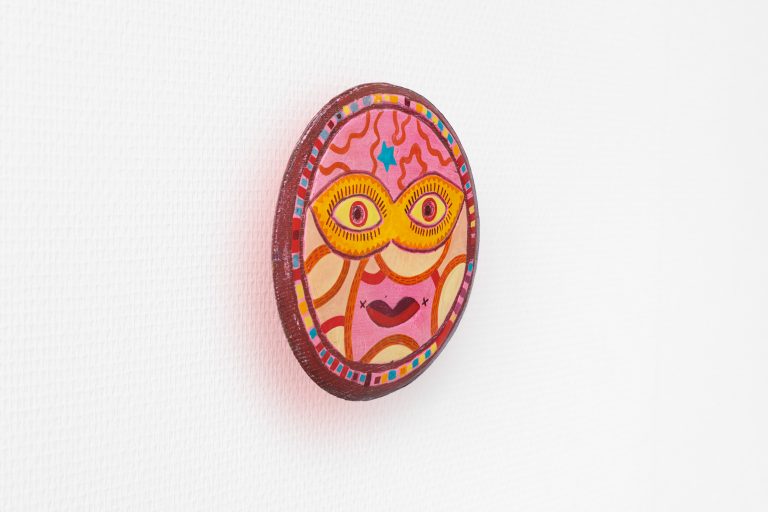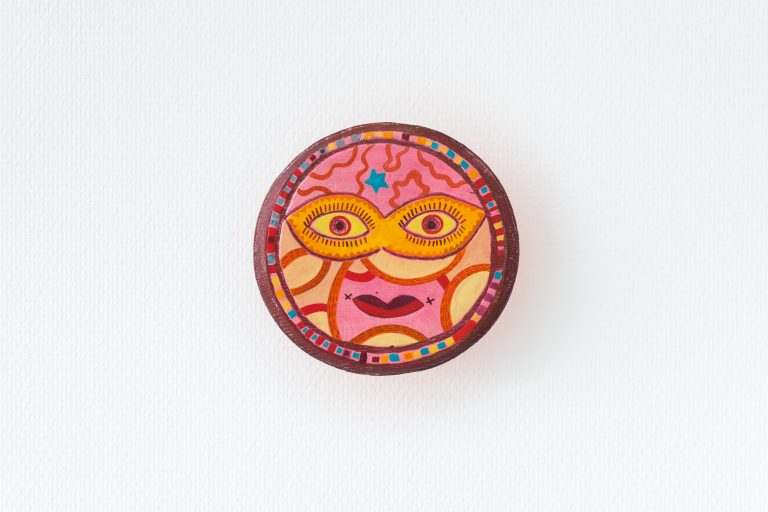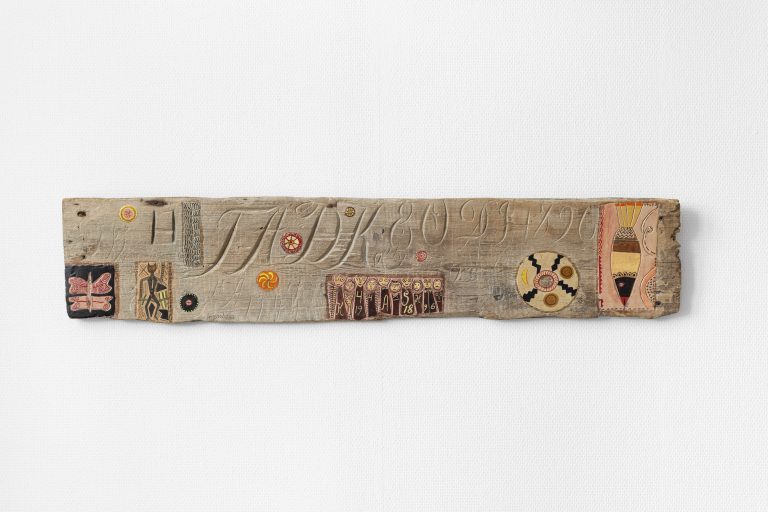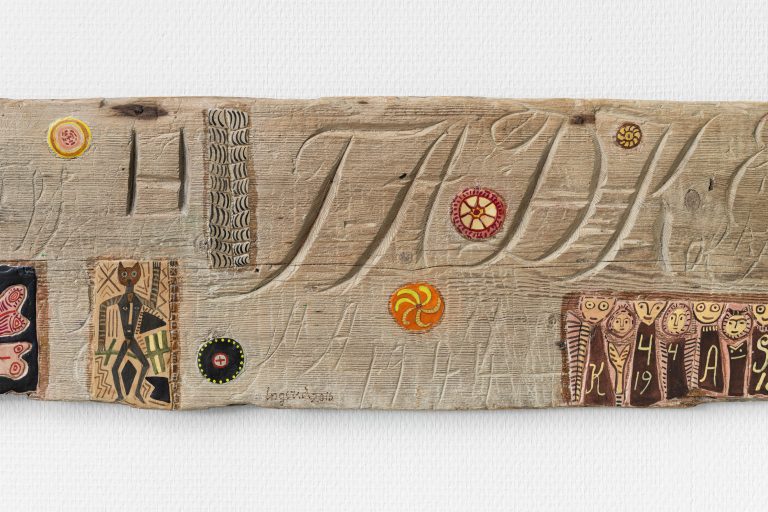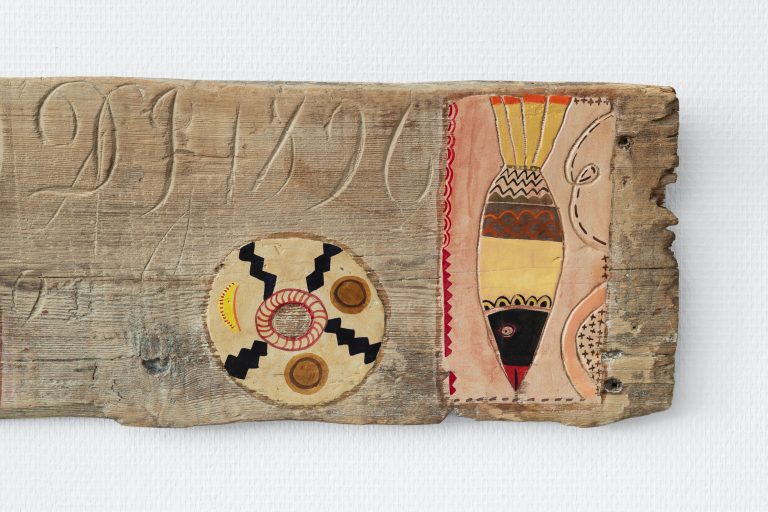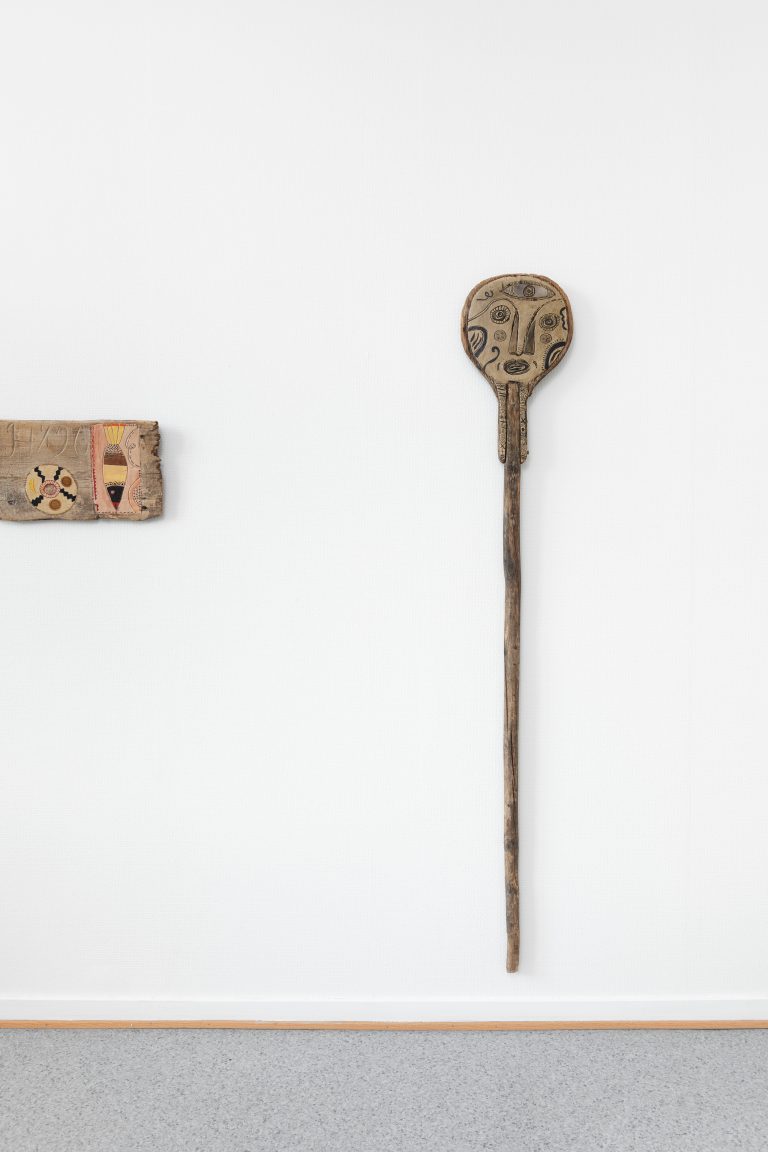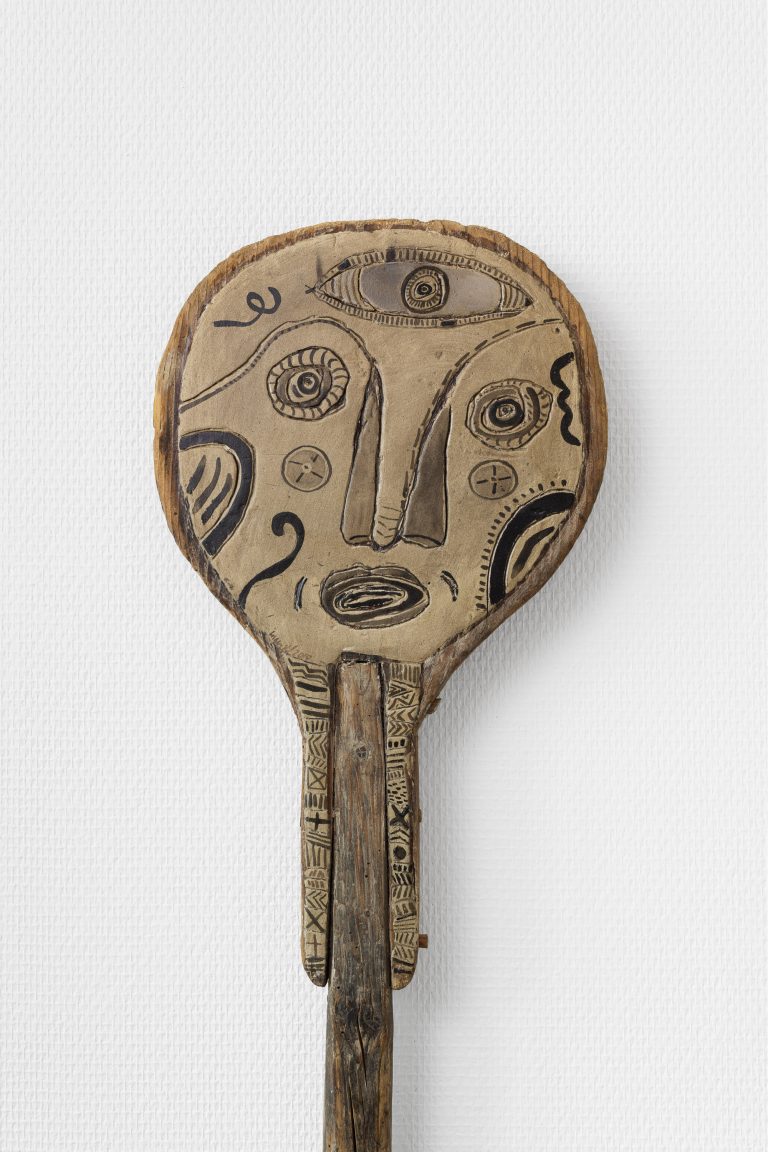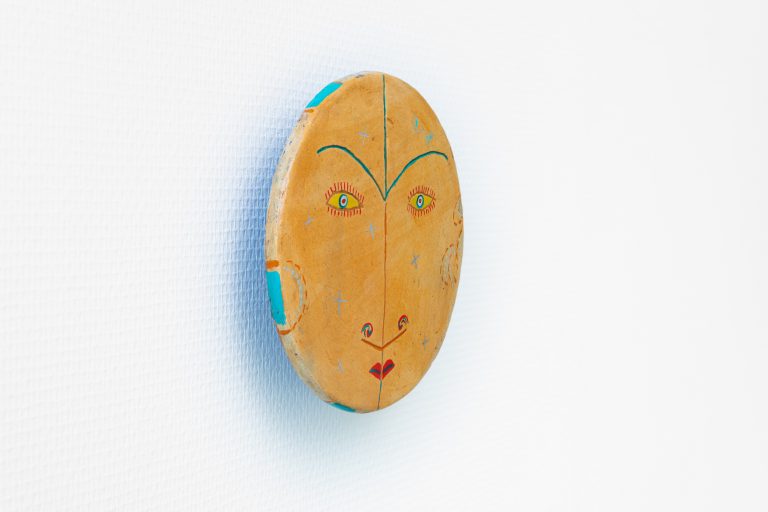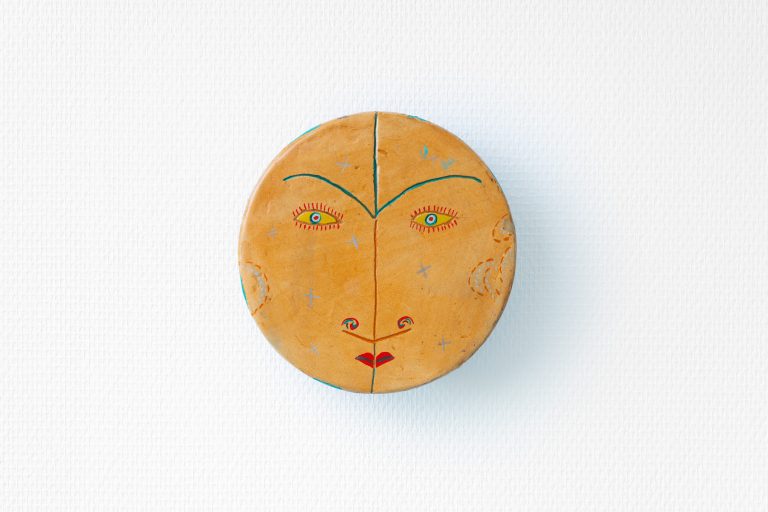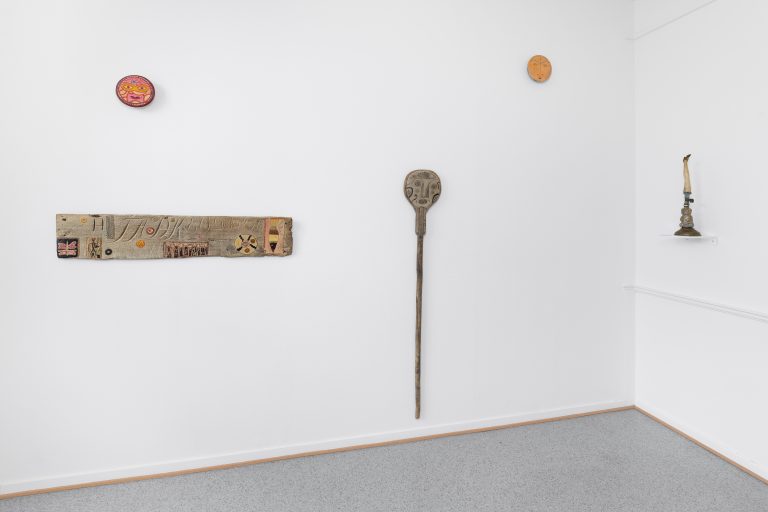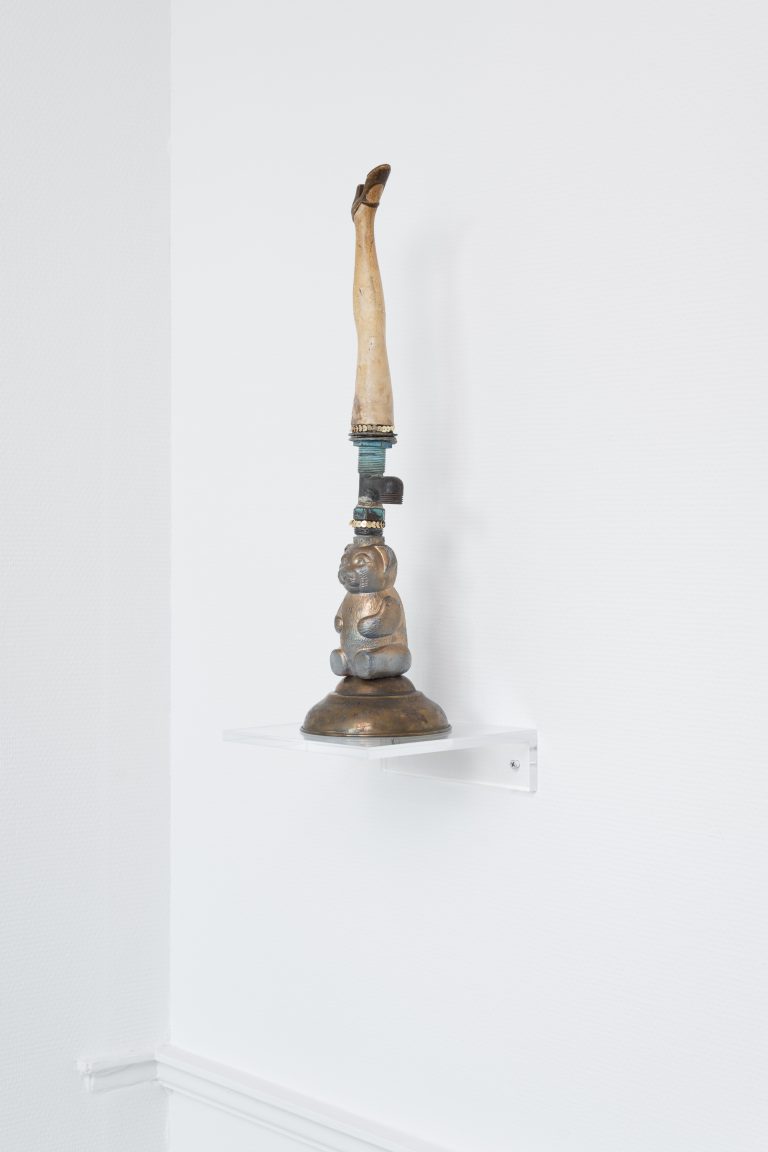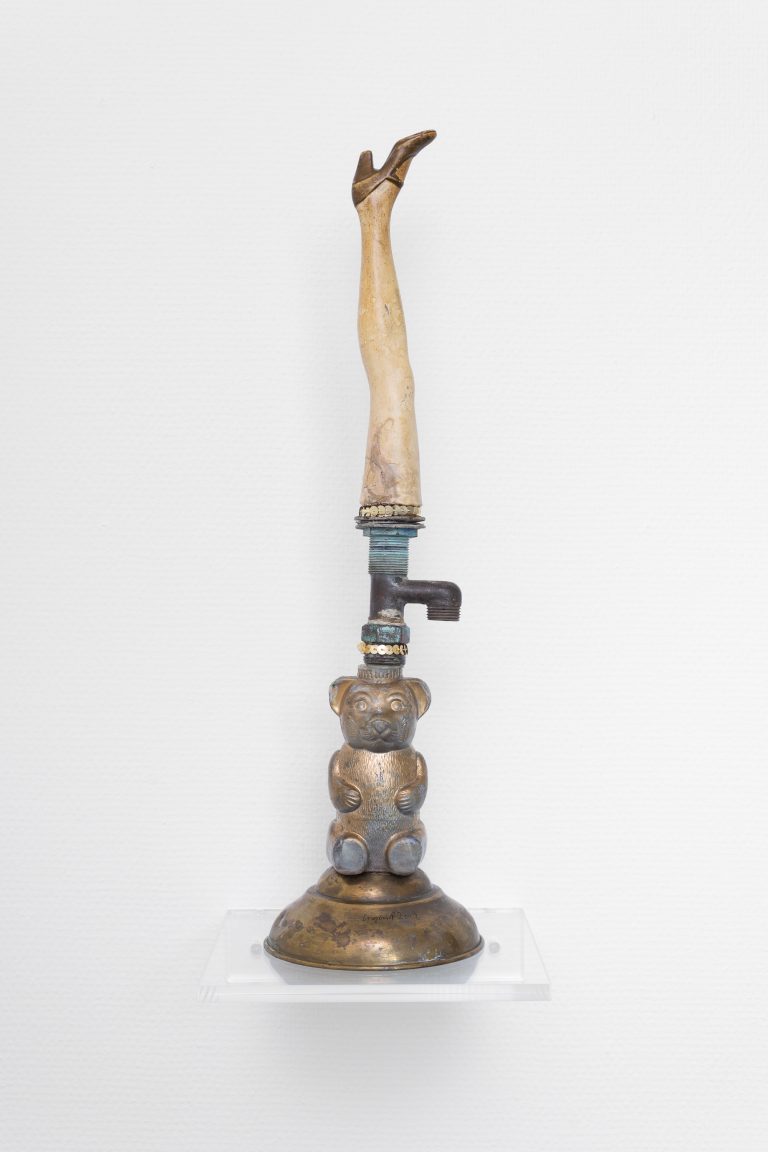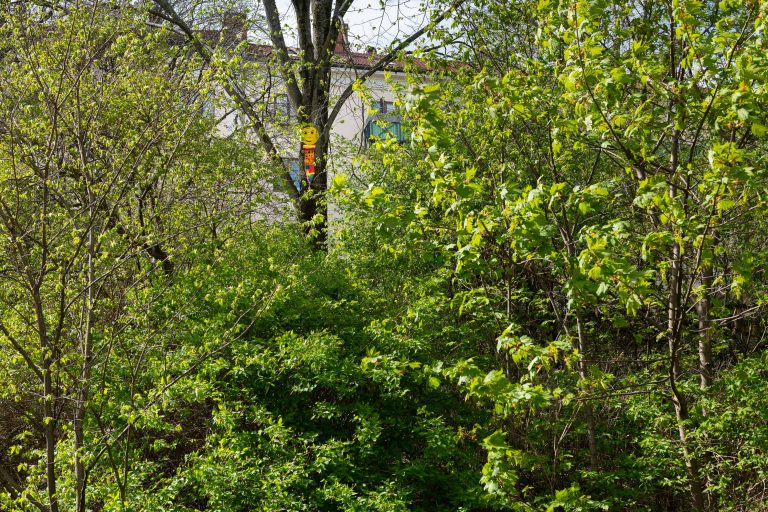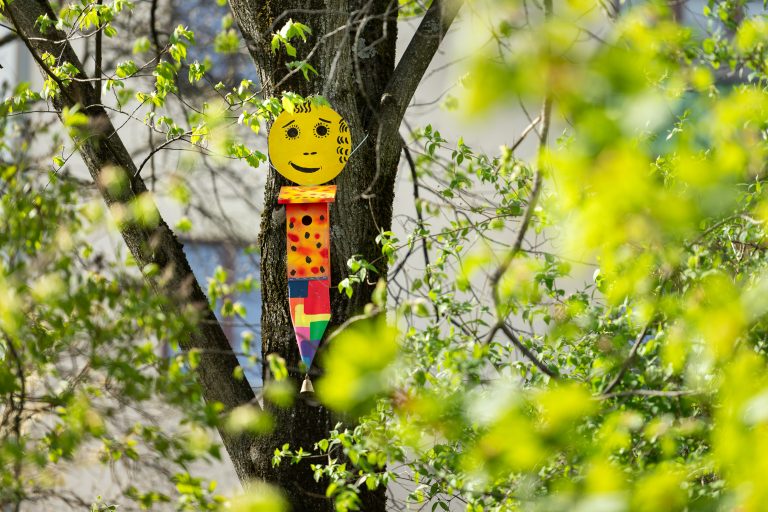 Femtensesse is honored to present Then & Now, a retrospective exhibition by the Norwegian artist Ingerid Kuiters. The exhibition brings together a focused compilation of works from 1990 until today, spanning from Kuiters' lacquer paintings on wood made with the Japanese technique urushi, to sculptures created from assembled materials and found objects. Kuiters was part of the 1960's hippie movement, and the visual codes of the hippie counterculture constitute the basis for her personal and vibrant visual language. Radial flowers and circles, stylized figures and animals and staring eyes are recurring motifs in the intensely colored works featured in the exhibition, which explore the meditative, spiritual and surreal. The exhibition also includes a new work produced especially for Femtensesse: a decorated birdhouse hung in the backyard, endorsed by a yellow smirking face inviting the nesting birds.
The curved lines and optical color vibration neatly painted on the piece of driftwood in Kuiters' early lacquer work Portugal by the Sea, give an illusion of movement. Further up, above the swaying and symmetrically constructed pattern of blue, yellow and white hovers an isolated, stylized eye that stares out at the viewer. The elongated work from 1990, dating from the time Kuiters resided in Portugal, possesses an atavistic, spiritual and psychedelic rhythm, which is characteristic of her rich ouvre. On the horizontal lacquer work from 2016, entitled Fragments on an Old Wooden Piece, circular shapes spin between mythical creatures like luminous UFOs in space. Kuiters' recurring circles stand out as personal meditations on color and energy, inspired by the rotational symmetry and spiritual symbolism of the mandala. Her affiliation with the hippie movement and its values of peace, love and community is further emphasized through the radiant work entitled Flower Power from 2014. The symbolic title of the round face staring out into the exhibition space, accentuates how the anti war-slogan from the 1960s lingers on.
Ingerid Kuiters (b. 1939, Sandefjord) lives and works in Åsgårdstrand, Norway. She received her education from the National College of Art and Design in Oslo (1957-1961) and Tegneskolen for Kvinder in Copenhagen (1962). After completing her education Kuiters traveled and exhibited extensively around the world. Her long career as an artist includes solo exhibitions at UKS, Oslo (1972); La galerie de l'oeil de Beuf, Paris (1994); Galeria de Arte, Loulé (2001) and group exhibitions at Stedelijk Museum, Amsterdam (1989-91); and Den Frie, Copenhagen (1998). In 2011 Kuiters' eclectic body of work was celebrated with a major retrospective at Haugar Vestfold Art Museum in Tønsberg. Since then she has exhibited regularly, mostly in the region of Vestfold where she lives. It has been almost a decade since Kuiters last solo exhibition in Oslo and Femtensesse is proud to bring a selection of her works to the capital. Concurrently with her exhibition at Femtensesse her work is featured in Østlandsutstillingen at Nitja Center for Contemporary Art in Lillestrøm and will be part of the reopening exhibition of the National Museum in Oslo, opening in June this summer.
At the opening reception of her exhibition Then & Now at Femtensesse on the 7th of May, Kuiters' new monograph Lost in Decoration II will be launched and accompanied by her son, musician Django Novo's live music in the backyard.
The exhibition is kindly supported by Arts Council Norway, KORO – Public Art Norway and Oslo Municipality.